Result Announcement of Hong Kong's First e-Message Design Competition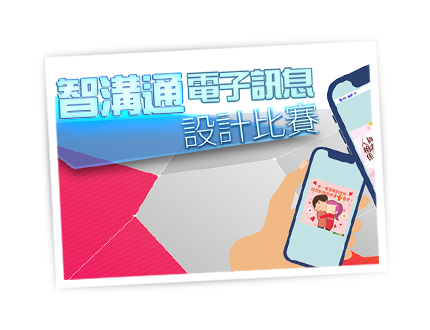 Jockey Club SMART Family-Link Project Announces Final Results of Hong Kong's First e-Message Design Competition
Awarded works illustrate vigour of "SMART Communications"
e-Messages as a drive for family harmony and happiness
(31 October 2019, Hong Kong) Organised by the Jockey Club SMART Family-Link Project, the first-ever Electronic Message Design Competition in Hong Kong, concluded successfully on 30th September 2019 and the results of the competition were announced on the Project's Facebook page on 25th October 2019. The winning entries are "Family! Where Life Begins" from Open Group, "Do you love us? (你愛我們嗎?)" from Family Group, "Sharing Happiness (分享快樂)" from Secondary School Group and "Mum, we love you!" from Primary School Group. Participants showcased immense novelty through creating e-Messages with pictures and simple texts, and expressed their heartfelt wishes to their beloved family members innovatively.
The Jockey Club SMART Family-Link Project ("The Project") was initiated by The Hong Kong Jockey Club Charities Trust in collaboration with The University of Hong Kong (School of Public Health and the Technology-Enriched Learning Initiative) and non-governmental organisations. The Project aims to make effective use of information and communications technology (ICT) and data analytics, and leverage cross-sectoral collaboration, to enhance the quality and efficiency of family services.
The e-Message competition was divided into four groups, namely Primary School, Secondary School, Family and Open, welcoming entries with the key themes of "SMART Communication", "Sharing Joy", "Showing Appreciation" and "Showing Gratitude". Participants were not only encouraged to design their own e-Messages for submission, but also for spreading love and happiness to their families or counterparts. The objectives of the competition were to promote the good use of Information and Communication Technology (ICT) tools in enhancing interaction and connectedness with family members. At the same time, participants could seize the chance to embrace the moments of intimacy and laughter when creating e-Messages together.
The competition was met with favourable responses, receiving participation from all walks of lives. The panel of judges, comprised of the representatives of the Project's professional advisory committee, was joined by Professor Lam Tai-hing, Sir Robert Kotewall Professor in Public Health, Chair Professor of Community Medicine of School of Public Health, Li Ka Shing Faculty of Medicine, The University of Hong Kong (HKU) and Principal Investigator of the Jockey Club SMART Family-Link Project; Professor Ricky Kwok, Associate Vice-President (Teaching & Learning) of Technology-Enriched Learning Initiative, Professor of the Department of Electrical and Electronic Engineering, HKU and Co-Investigator of the Jockey Club SMART Family-Link Project, Ms. Imelda Chan, Head of Charities (Grant Making – Elderly & Family), The Hong Kong Jockey Club, and Dr. Raine Ng, Deputy Programme Leader (BBA – Marketing) & Instructor of the Department of Marketing, City University of Hong Kong. A total of 16 winning entries were selected. Through this competition, the organising committee hopes that more people learn to communicate with their families on various instant messaging software and online platforms actively. Participants are encouraged to design different kinds of e-Messages for sharing joy and strengthening family bonding. As SMART communications are prevalent in such a digital age, sending caring messages in graphical form to others, anytime and anywhere, could be another creative and effective means in fostering family well-being.
Impressed by the e-Message entries from the participants, the Project's Principal Investigator Professor Lam Tai-hing, who is one of the judges of the event, reinforced the importance of using ICT tools in conveying love and care to our family members. "The love between family members has always been invaluable. Our Project Team hopes that all participants would ponder on the ways of communication with their families, and gain more confidence in expressing their thoughts by designing electronic messages, hence promoting family well-being," said Lam. "After the competition, we believe that the general public could deliver their love smartly and digitally in their everyday life, which helps enhance family happiness and harmony."
Dr. Raine Ng from the City University of Hong Kong, who is another member of the judging panel, also expressed with pleasure that "the entries in this competition are excellent and there has been a competitive selection process. The participants have made much effort in presenting the four key messages through their works. By taking part in this competition, I hope that members of the public will treasure their ties with family members, and will also put into real practice the mutual love and support as illustrated in the awarded (e-Message) designs. It is essential to share joy more often, and work hand-in-hand towards a harmonious family environment."
The winning entries will be exhibited on the Project's "Family Portal" webpage (https://www.jcsmartfamilylink.hk/family-portal/) and related social media platform (https://www.facebook.com/jcsmartfamilylink/) for downloading freely – Members of the public are welcome to send out the awarded e-Messages, in the hope that both information and affection could be shared as widely as possible.
The awarded entries of the e-Message design competition for champions to each group are as follows, while for other winning entries, please refer to our Facebook page:
(https://www.facebook.com/jcsmartfamilylink/)
*All the winning entries can be downloaded from the link below:
(https://www.facebook.com/pg/jcsmartfamilylink/photos/?tab=album&album_id=521346195321369)
Copyright © Jockey Club SMART Family-Link Project. All Rights Reserved. 版權所有